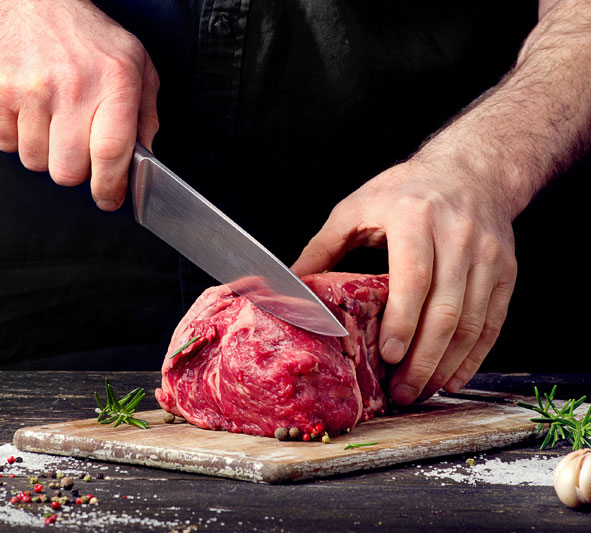 Fellinger & Son's
Incomparable Meat
Fellinger & Son's Meat Inc. has locations in Regina and Moose Jaw SK. Locally owned and operated, specializing in supplying top-quality meats, we are a full-service retail meat market featuring Canada AA Grade beef. Our butcher shop has a large range of fresh meats and cheese for customers to choose from. Our Regina shop has a couple more outstanding features. The 1909 building is on the corner of 11th Ave and Quebec Street. Its angled doorway and dormers make it stand out. Add to that our classic neon sign. Truly an architectural gem of the Queen City. In business since 1959.
For the finest meats come down to Fellinger & Son's Meat Inc. today! We do offer curbside delivery upon cash payment.

Beef
According to cattle.ca, each average Canadian purchased around 40 LBS of beef in 2019. That adds up to around 1,320,000,000 LBS of beef. Holy cow, that's a lot of beef. Fellinger & Son's Meats is proud to supply top-quality beef to our customers. Steaks to roasts, shortribs to ground beef. We provide the best quality beef to our customers in Regina, Moose Jaw, and surrounding areas.

Poultry
According to statista,ca, each average Canadian consumed close to 80 LBS of chicken in 2019. Roughly twice as much chicken as beef. Chicken consumption has risen by around 30% since 1998. We understand the market demands and provide the meat that people want. If you are in the market for chicken, you have come to the right place.

Pork & Ham
According to statista,ca, each average Canadian consumed close to 37 LBS of pork in 2019. A significant percentage of total meat consumption. The other white meat is popular on the prairies. And everyone knows that bacon improves every meal. Pork chops, pork steaks, ham, and leg of pork roast. Fellinger & Son's Meat has it in stock.

Sausages
Sausage can represent many different tastes to many, diverse people. Sausage is generally made in a tubular shape and has an outer casing. The casings can be edible or inedible. There are edible natural casings, collagen casings, and inedible fibrous casings. The filling can be ground beef, pork, or poultry. They can also include spices. Some are pre-cooked, some require cooking. Fellinger & Son's Meat can guide you through the sausage maze.

Freezer Packs
We go old school with pounds and pounds of quality meat in our freezer packs. From the 70LB Family Pack for the big family with the big freezer. Right down to the 10LB Sausage Pack. Fellinger & Son's Meat has 15 Freezer Packs to choose from. These packs are ready for same-day pick-up. We do have set components but allow for one item to be changed out. Beef, chicken, pork, ham, bacon, and sausage. We have the meat.